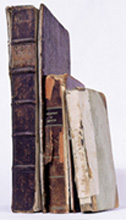 Although very similar, the repair, restoration or conservation of books are in point of fact very distinct and separate operations.
The most simple operation is the repair. A repair could be loose covers or broken spines. Sometimes there may be loose or torn pages. A repair is made using materials which best fit the particular situation.
Preservation of a book so that it retains its original characteristics is called restoration. Here the original materials are retained: cloth or paper wrappers cleaned up and fitted onto new boards, signatures may be resewn, torn pages hinged onto lightweight Japanese papers.
The most complicated of these procedures is conservation, where the aim is stabilization of original text block. The concept is the book as object and the focus is to maintain its value as an artifact. Here a book may be completely unbound: covers and endpapers removed, old adhesives removed, the sewing undone.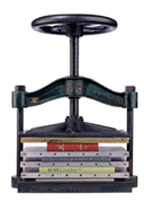 The Campbell-Logan Bindery has done much conservation work for libraries, including those of the Walker Art Center, Library of Congress, Minneapolis Institute of Arts, and St. John's University, the University of Minnesota, numerous collectors and antiquarian book dealers.
AlphaBind™
Recognizing the need to offer a binding that is neither conventional library binding nor single item conservation treatment, Campbell-Logan Bindery has introduced a binding designed to be used for permanent research collections. We call this binding AlphaBind™. AlphaBind is suitable for material too significant or too complex for conventional library binding.
While AlphaBind specifications are not designed for material of extreme value or volumes containing brittle paper, all volumes sent for AlphaBind will be deemed special and of some artifactual value.
In the past most of these volumes have been placed in an a book box or remained untreated due to the lack of suitable alternative. AlphaBind is designed to cost approximately the same as a book box yet offer the increased serviceability of a repaired or rebound volume.
All materials used in AlphaBind are conservationally sound and pH neutral where possible. While every attempt is made to adhere to the conservation principle of "reversibility," leaf attachment and cover-to-text attachments are designed to add strength and flexibility to the volume. In all instances the original text block remains intact. Through innovative cover-to-text attachments the original cover may be reused or a new cover can be made in a style sympathetic to the original binding.
While nearly any volume may be recovered for purely aesthetic reasons, we have designed AlphaBind to withstand great abuse. Volumes chosen for the AlphaBind specification will generally be ones that receive moderate to heavy use and will fall into the following classification.