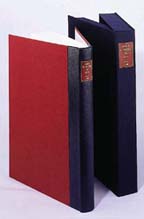 As distinguished from the hand binding of a single volume and library binding, short run binding runs from as few as fifteen copies to as many as five hundred.

Limited edition work applies more frequently to fine press books and art books. Consultation services offered by the bindery facilitate the smooth processing of your book through the shop. All aspects of the book are considered, and with the substantial expertise and materials available at The Campbell-Logan Bindery even complex, extravagant projects can be accommodated.
Many of the private press printers in the country have availed themselves of the services of The Campbell-Logan Bindery. Among them are Bird & Bull Press, Stinehour Press, Oak Knoll Books and the Limited Editions Club. Major institutions such as The Whitney Museum, Walker Art Center and Minneapolis Institute of Arts have commissioned fine bindings from The Campbell-Logan Bindery.
A wide range of binding styles prevails in contemporary bookbinding - many of them reaching back to Medieval times - and The Campbell-Logan Bindery is adept at all of them. From the single signature sewn pamphlet with paper wrapper to multiple signature Smyth sewn books to concertina and non-adhesive paper case bindings. From boards with decorative papers or printed Italian papers to full Moroccan leather or even the difficult to work with vellum.